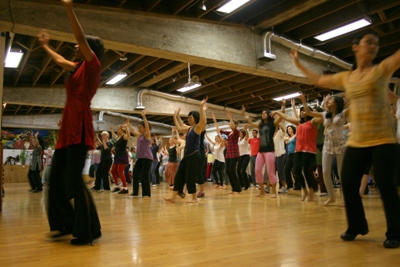 Looking for a good deal to help you get in shape while having fun? Kick start your summer on the best foot possible doing the happy dance while getting a great workout!

If you have ever wanted to join the colorful, vibrant, and energetic dance numbers at wedding scenes in Bollywood flicks, or the bouncing joyful circles at Punjabi receptions, or perform at family, friendly gatherings, or just learn an indian inspired dance routine for fun while getting a great workout, then come join Dholrhythms Bhangra classes.

Classes share the energy of the beautiful punjabi folk dance of Bhangra through fun energetic choreography and are open to both men & women & accessible to all levels.

The Offer
$25 for 4 classes (normal $40-$52 value)
$50 for 8 classes (normal $80-$104 value)
$60 for 10 classes (normal $100-$130 value)

Choose any of above offers for classes in the traditional Bhangra style with the Dholrhythms Dance Company. Choose from either our San Francisco or Berkeley locations.
You can use the gift certificate for our monthly "Rhythms of Punjab" workshops offered in San Francisco and Berkeley in 4 sessions, where you learn a choreographed dance routine to one or two punjabi songs over the course of 4 weeks. Through the workshop you will get the music and a video of the routine as you learn it so you can practice at home.

Gift certificate can also be used for drop-ins for 4 single sessions at our Berkeley Ashkenaz location where you'll learn the basic Bhangra movements, while learning a new combo of steps in each class.


Check out a video of the type of routines taught in these workshops!
http://youtu.be/9mXt7USv4q0


Highlights:
Traditional Indian folk dancing
Calorie burning and culturally enriching
Locations in San Francisco and Berkeley
Can be used for drop in or for 4-week sequence
Classes do not have to be consecutive and can be spread out as single classes.

Restrictions:
Limit 1 per person, additional as gifts only
Gift Certificate expires on July 1st, 2013 (you have 1 year to redeem it)

***Once purchased, print out the confirmation and bring it with you to the first class.


Class Schedule:
San Francisco "Rhythms of Punjab" workshops begin on the first Tuesday of each month and end on the 4th Tuesday from 8:00pm-9:00pm at ABADA studio located in the mission neighborhood.

Berkeley"Rhythms of Punjab" workshops begin on the first Thursday of each month and end on the 4th Thursday from 7:30pm-8:30pm at The Works Studio on Telegraph Ave.

Next "Rhythms of Punjab" workshops begin in July. Check our website for exact dates.

Our drop-in class is in Berkeley every Saturday morning from 9:00am-10:00am At Ashkenaz on San Pablo Ave.

Classes will be taught by Vicki Virk, creative director of Dholrhythms Dance Company and Non Stop Bhangra monthly.

For more info, visit our website: http://www.dholrhythms.com

----------------------------------------------------------------------------------------------------------------------------------------------------

ABOUT DHOLRHYTHMS DANCE COMPANY: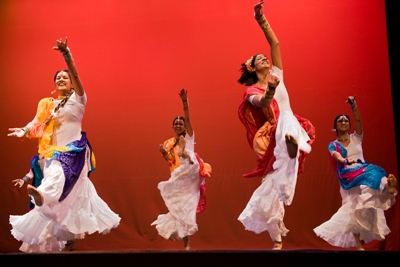 Dholrhythms Dance Company is an award winning Bay Area dance company dedicated to promoting the artistic and cultural heritage of India through the beautiful Bhangra and Giddha folk dances of Punjab, India. Dholrhythms hosts classes, workshops, performances and events that celebrate these beautiful folk dances. Since its inception in 2003, Dholrhythms has grown into a boundless and unique platform for people of diverse backgrounds to come together, express themselves, and dance in a non-competitive and positive environment.

Dholrhythms also hosts and headlines Non Stop Bhangra, the legendary monthly voted as one of "Best Dance Parties" in San Francisco. Led by co-founder Vicki Virk's punjabi heritage, the Dance Company highlights the ancestral and ethnic roots of the Punjabi dance forms while pushing boundaries with contemporary influences. The result is a fresh and exciting dance full of joy, energy, and passion.

----------------------------------------------------------------------------------------------------------------------------------------------
What is Bhangra?-- one of the happiest and most exuberant forms of movements that originated in the Punjab region of North India. Traditionally performed at harvest season in the villages of Punjab, Bhangra is now known as a folk dance that is done all over India during family celebrations and festive occasions. If you have ever gone to an Indian wedding and witnessed people bouncing joyfully in circles, shrugging their shoulders, and laughing endlessly, you have experienced Bhangra. In Bollywood movies, its often shared during scenes reflecting such colorful family celebrations.